Many moons ago Mr. H and I visited the Lake District, we were on our honeymoon, and in one of the shops we came across a selection of items marketed as native american spirit animal talismans, and directions on how to select the one which spoke to you. This is one of those times that Mr. H's choice surprised me. You see he loves dogs, and wolves, so I thought he would choose the wolf. Instead he chose the bear. More accurately I suppose, the bear chose him.
I mean no disrespect to the Native American people, their beliefs and their culture. Our experience was in no way authentic of the way in which a true spirit animal is found but to this day that bear talisman hangs on the bed post at Mr. H side of the bed, and from that day forward our youngest son was nicknamed 'little bear'.
Spirit of the Bear
The bear is a sign of strength and confidence; it is grounded and confident. The bear is quiet and happy with solitude. It is in many ways Mr. H so once again I guess he knew best.
The Deer
I did not find my spirit animal that day, but naturally, I did not want to be left out and so found an online quiz that promised to enlighten me. This site informed me I have the Deer as my animal. I guess the description isn't too far out, and it's not surprising given how easily I startle. I'm often described as a deer in headlights….
When you have the deer as spirit animal, you are highly sensitive and have a strong intuition. By affinity with this animal, you have the power to deal with challenges with grace. You master the art of being both determined and gentle in your approach.

https://www.spiritanimal.info/spirit-animal-quiz/
Find your spirit animal
I have found most of the information in this post at the SpiritAnimal website. Have a go at their quizzes to find yours.
Being serious though
Taking time to meditate, to look inside yourself for calm, to realize that you are part of the world and should respect it and those around you is not a bad thing. You can only find inner peace when you accept yourself fully, something I struggle with constantly. I see posters and banners around telling people to "Be Kind" and wonder when did it become acceptable to be anything else?
Having said that, I am very unkind to myself. If I spoke to someone the way I speak about myself I would be very upset and ashamed, but I find it very difficult to do otherwise – even when Mr. H tells me off for it. Being kind to myself is definitely something I need to work on.
I hope very much that you are at peace with yourself and at one with the world.
Sweetgirl x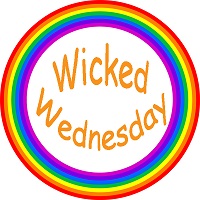 This post is linked to Wicked Wednesday #483 "Spirit Animal". Click HERE to see more posts from this prompt.