MrH said to me last night, you never know your luck, we have a lottery ticket. I replied, "I used up all my luck when I met you," and I meant it, I was lucky to fall in love with a man who loves me back.
Once upon a time, my life was dull. I was a good girl and I felt like Cinderella, and hoped one day I would be rescued by a handsome prince.
I met my first husband, and I thought I was rescued. I wasn't. Instead I was returned to the basement for further abuse.
I realised I had to rescue myself and I did.
When I met MrH I initially saw it as a bit of fun. Very quickly my heart decided otherwise but I didn't realise how lucky I was until many years later.
My father died, and he held me up.
I had a breakdown, and he kept me above water.
I developed physical disabilities, and he loved me still.
No matter what I have been through he is there for me.
I would lay down my life for him and I know he would do the same.
When I asked him to consider introducing BSDM to our relationship and he agreed, I found out exactly how lucky I was.
Sweetgirl x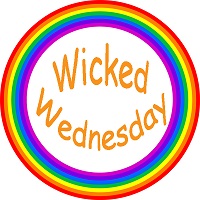 This post was inspired by Wicked Wednesday #376 "Lucky" click HERE to see more posts inspired by this prompt.