If you are a regular reader of my ramblings you may remember I recently started a new job, and that on the first day of the job, my new boss contacted a friend who was looking for a bookkeeper and suggested I could help him too… On Friday this gentleman came to the office with his paperwork to meet me.
It transpires that his previous bookkeeper had become unable to cope and as such the books were 4 months behind. This put a rush on the need to get his books up-to-date so I offered to work yesterday to get this done, for overtime pay.
Friday night, MrH practiced some more rope work.. he tied my legs and my feet.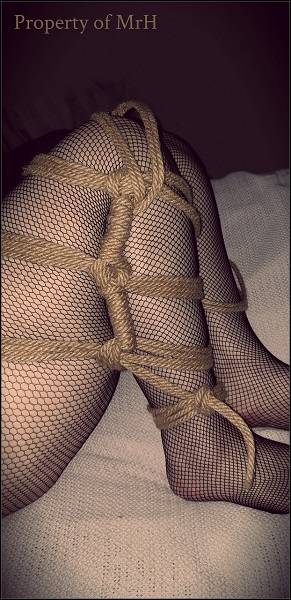 Saturday began with a trip to the fat club. A maintain this week so that's good and then home for breakfast before getting started on the books. For 6½ hours on Saturday I was immersed in bank statements and invoices.
Of course I will be paid for my time and we plan to have some fun with this money….
MrH has decided he wants to take me shopping for a new bra and panties set. This will be a new experience for us both. Normally I buy these myself and I've never yet disappointed him with my choices, but it will be very special to know I am wearing something he picked.
We've also booked a hotel room for next weekend… We may not need it as our youngest has indicated that he plans to go out next weekend, but, he was also planning to go out this weekend and that didn't happen so we'll make plans 'just in case'.
That said, I worked at home so I was still with MrH, and that makes it a good day.. and the new cooker was delivered so normal kitchen service can resume.
This morning (Sunday) we awoke at the same time (well truth be told the ginger ninja woke us both up cos he was hungry) so after putting down some food and nipping to the loo, I crawled under the covers to pay MrH some special attention.
MrH decided to try out our new vibrator while I did. 2 lovely orgasms later he called a halt to play as he wanted to go to the loo.
While he was in the bathroom I rolled into 'ass present" pose.
When MrH returned to the room, he climbed behind me, and used me for his pleasure. As he did, he asked me if I was his "fuck toy" – and I responded "yes Sir" … He gave me his cum and we snuggled a little before heading downstairs.
I love morning play. Strangely I didn't used to. I would be sleepy and uncomfortable, worried about morning breath and that perhaps my pussy wasn't fresh either. But then again, I wouldn't have thought that having MrH hold my hair and fuck my face would turn me on so much that I'm dripping either!
A few weeks ago I posted about some new boots I had purchased. They were lovely but ultimately the legs were too wide and so I returned them. As they were in the sale I have been unable to order them in a smaller size and the others I liked are also out of stock now.
I'm hoping that later in the year they will release some new over the knee boots and I will try again..
In the meantime I decided to try and stretch/bed in some boots I got before Christmas. I searched YouTube for people's suggestions on how they have stretched boots and opted for the hairdryer method.
Well I managed to get them on over 2 pairs of socks…. And I've kept them on for a few hours. I'll do the same every day this week. I'd like to get them to a point where I can get them over my skinny jeans.
But if I can't that not essential, the main thing is that I want is to be able to get them on without them getting stuck below the knee. So far so good…
When MrH went to make his breakfast, I decided that I would demonstrate how we had been shown to pose to best show off the bottom at the photo shoot… I think he liked.