Every morning I look through my WordPress feed as I wait to go to work, and this morning there was a post by SubMissy Control Freak that really touched me. So much I decided to share something of my own. I have my own struggles with mental health and promoting awareness is something I feel strongly about.
In 2003 my father died, suddenly. He was 51 and he had a massive heart attack. After the postmortem we discovered that he had in fact had many heart attacks that he had ignored or dismissed as heart burn.
As his eldest child I was 29. He died 9 days after my birthday.
My parents divorced when I was 5 and my brother was 3. We lived in a small mining village and my mum left my dad, for his best friend, a man known for being violent to his wife who had left him, taking their son with her. I remember being wrapped in a sleeping bag, taken from my bed and put into a car. I remember being bewildered and my dad crying.
My mum and stepdad married and had a child together, he is nearly 10 years younger than me and I doted on him as a child.
My dad found happiness with a woman 10 years older than me, and they married a few years after my mum and stepdad said I do. She was 6 months pregnant when they said I do. They had a second child 2 years later. He was only 15 when our dad died.
When he died I felt so bereft.
I had so many things I wanted to ask him.
So many things I wanted to know.
My mum would tell me he had been disappointed when I was born because I was a girl. That he hadn't wanted me.
My aunt has told me this isn't true.
In all honesty my mum is a bitch. She says hurtful things. She lashes out when she feels threatened. She felt threatened by how I adored my dad.
But, she hurt me. She made me question how he felt about me.
Within 18 months of his death I had stopped working and was deep in the grips of clinical depression. Some days I couldn't get dressed. Our children were 6 and 11. There are times I think I stole their childhood because I was so depressed, I didn't have the energy to take them places.
My GP treated me in the usual way. Medication and referral to a counsellor.
The counsellor was wonderful. And one session she asked me "why are so you mean to yourself?"
I had no answer. But it made me think. Why am I?
The answer didn't come easily. But, eventually I had to acknowledge that actually I couldn't remember my mum ever telling me she was proud of me. I don't remember being told I was pretty. I don't remember being told I was loved. I do remember being told I was lazy. I do remember being told I was naughty. I do remember being told I was a disappointment. If I got a B at school my brother would have got an A. He always got A's. I remember always feeling like I didn't measure up.
So the counsellor asked me to think about myself differently. She said, "imagine your best friend has just told you everything you have just said. What would you say to her?"
Well that was easy. I would tell her they are not true. That she is wonderful and kind and beautiful. That she is special and important.
I can be kind to others but not myself.
She also said, "if you could go back to that small girl who was scared and frightened. Who didn't know what was happening when she was put into the car that night. What would you say?"
I told her I would put my arms around her and say, " you can get through this and you'll be ok"
Now it took me a while to get to the point I am at now. MrH has been my absolute rock. He is steady and strong. He loves me and cherishes me, even when I don't love and cherish myself.
The message I want you to take away from this is simply this, be kind to yourself and you'll be ok.
Sweetgirl x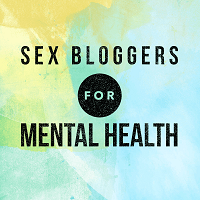 This post was linked to Sex Bloggers 4 Mental Health; a writing prompt which has now ended.