It's been a long time coming, this post I mean. It started a few days ago with my post "Is now a good time to talk?", and continued with "History is a great teacher: Remembering the good times". I'm talking about the sexy stuff of course. I haven't hidden that Mr H and I have been finding it hard to connect intimately but this week we seem to have found our way back.
Wednesday.
You may remember we went to the munch, well that's on a Tuesday. Wednesday is our chat night, and we were meant to be getting the new front door fitted. Naturally nothing goes to plan, and the door has been made without a letterbox and with the wrong thresher. Honestly you couldn't write it.
Anyway, first thing I was tired, which we expected, but I was also a bit panicked. My nieces were coming at the weekend and I had promised them some jumpers and vests. I knew I was going to have to be very disciplined if I wanted to get them done. So I allowed myself to rest until 10am and then I began. Sewing for twenty minutes then resting for fifty minutes. This routine is then repeated throughout the day. I made good progress and completed the vests, and had the main body panels put together on the jumpers by the end of the day.
The way back.
In the evening Mr H started our collar exchange ritual. He removed the day chain and fastened the night chain in place. Our words were exchanged. A little kiss.
He picked up the ibuprofen gel that he applies to my back and knees, and told me to bend over which I did grinning.
SLAP. Right cheek. I gasped.
SLAP. Left cheek. My grin faded. Hope appeared.
SLAP. Right cheek again.
"Leg," he indicated I should move so he could apply gel to my knees.
He did the left then right knee.
Then. He slapped my leg. Again I inhaled sharply.
He slapped the other.
He pulled me close and kissed me roughly, while his hand directed me to spread my legs.
He slapped my pussy.
"I better go wash my hands," Mr H said, leaving me bright eyed and a little dazed.
He came back into the room adjusting his underwear, and remarked that the slapping had woken his Dom Rod.
Grinning like a Cheshire cat.
This Dom Rod, made me so happy. It seemed like maybe, just maybe we could be finding our way back to D/s.
During the talk, I asked him to set aside some time for us as he had two days off work coming up. He had things he wanted to do at his allotment but as J was on a training course I wanted some play time for us.
"10 am Friday," he said.
A quick aside.
Lovehoney Returns.
For my birthday I bought a Lovehoney deluxe wand. It looks exactly like the Doxy Original but is £30 less. As 3 of the Doxy's we have bought all broke in some way or another, I thought I would try this. Using my 40% discount it cost about £35.
When we got it out to use Mr H said the vibration feedback was awful and I thought it was loud.
I buy from Lovehone because their customer service is excellent, as is their satisfaction guarantee. I decided to return the wand and replace with a Doxy. They refunded the cost and asked me to dispose of the wand utilising recycling as much as possible.
In the meantime the Doxy original had been ordered and it would arrive Thursday.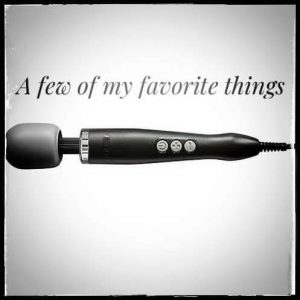 The Doxy is back and so are we.
Friday morning the bed is ready and I'm naked. Mr H puts my play collar on. He reminds me he loves me and asks if I remember my Safewords. I'm getting wet anticipating his next move. His hands move from my shoulders to my nipples, and he pinches them.
He goes to his toy selection and gets the nipple clamps out. Slowly he walks over to me and places the clamps giving the chain a light tug he makes me step forward. He then announced he was going to the loo.
I took the opportunity to take a quick picture. My mind was bursting with anticipation. I could see the pin wheel, some other toys, the flogger, the cane and the new Doxy.
Mr H returned looking confident and I felt my stomach tighten. My Dom had found his way back.
You are fucking mine
He removed the clamps and as the blood rushed back into my nipples leaving them very sensitive he told me to get on the bed arms and legs spread.
Mr H kissed me and then told me not to move. He used the pin wheel first. Running it over my nipples causing me to suck in a breath. Down over my stomach to my pussy and legs.
" Let's have you sucking my cock" he said.
I waited for him to position himself and was allowed to begin. In the meantime, Mr H applied some lube to my pussy and turned on the Doxy.
I began rocking my pussy against it. Within a few short minutes I took my mouth from around his cock and asked if I could come. Given permission within seconds my first orgasm washed over me. The rhythmic pulses slowly resending. I held up one finger and said "one".
Mr H began to move the wand against me and a second orgasm, stronger than the first took hold of me.
In total I had three orgasms and Mr H moved between my legs thrusting his cock into me. As he came, he said "You are fucking mine" just as I had imagined. It rounded the play off perfectly for me. I had a massive grin on my face and my body felt relaxed and yummy.
We are definitely on our way back.
Saturday night Mr H got the cane out. For the first time in a while I drifted into subspace. After play I was shaky and cold so Mr H wrapped me up and cuddled me.
It has been a busy week. It has also been productive and I feel it's been pivotal. I have, for the first time in about 18 months felt submissive and I think Mr H has found his Dominant self too.
Sweetgirl x
This post is linked to Wicked Wednesday #494, "Werewolves and Vampires" and although I have not used the prompt click HERE to see some other posts that have linked to the prompt.
On a side note, SubMissy of The Safewords Club has just written a fantastic post on Impact Play and things to consider when you're starting out. Click HERE to read it.