MrH reads my posts. This is my journal after all and one of its functions is to give him insight into my tangled thoughts. Especially the ones where I haven't been able to articulate them to him in person.
Reading my mind
My two recent posts Horny as Hell and Impossible? fall into the that category. Going further back, some of my recent posts (Sexy Cardigan?, Out of it, & I want…. ) were clumsy attempts to tell Mr H that things weren't right. Of course men don't really do "hints" do they? Well Mr H doesn't 😂.
So, Mr H read them. He didn't "like" them or comment – he doesn't really comment [not so subtle hint Mr H- I would like it if you commented- tell me your thoughts on my posts- feedback etc]
Last night I stood for him to do my collar. I stand in this inspection position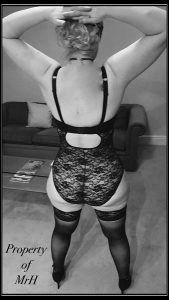 It allows me to hold my hair out of the way. Yesterday after he fastened my night collar in place, he moved my arms (he doesn't usually) to being wrapped around my middle, with his arms over them. He hugged me back to him and kissed my neck. He whispered "I'm sorry- I'll do better."
Connecting
I could have cried. Partly with relief that he had read my posts, partly because he was telling me he would try and do/be what I needed, mostly because I hated that I had made him feel bad. I could hear in his voice that he wasn't happy with himself.
He turned me around and kissed me. Thoroughly. Gently, tenderly, passionately. When the kiss ended he pulled me close to his body so I could feel his erection. I smiled knowing he had definitely read my post…
We got into bed to watch TV as is our usual routine, and he called me over to cuddle. This has been complicated by a new anti-inflammatory that the consultant has put me on. It's called Capsaicin (Click for information from "versesarthritis") and is made using chilli extract, so MrH applies it wearing a rubber glove. If he were to then touch that area he would have to wash his hands thoroughly- or risk the burn of chilli if he rubbed his eyes, or if he ate something. So, he stroked my shoulder and arms instead of my back.
I did express to him that I didn't want to make him feel badly, and I worried that I didn't want him making himself unhappy by doing something he doesn't want to do. Something that he feels uncomfortable with.
He just replied that this is where compromise comes into play, and finding a balance where everyone's needs are met.
Used
The son also went out last night – last minute – but MrH did what I needed- he kissed me, then fucked me- hard and fast. I didn't cum I didn't need to- I felt the calm settle over me as he took me. He switched my submissive state back on.
After I lay calm and drowsy. I felt better than I had in days. I thanked him.
I hope those words conveyed everything I needed them to. Thank you seems somewhat inadequate.
I needed to be used. I needed him to take me without thinking about me "enjoying myself" and that goes against his natural instinct. He likes me to enjoy it.
The thing is, my submissive self likes to be used. I want him to tell me to get undressed and bend over so he can fuck me. In the living room, in the kitchen or in the bedroom. I don't care where. It feeds my submissive mindset to be used that way.
I also like him to make me to things I am uncomfortable with.. for example straddling his face so he can play with me orally makes me uncomfortable but it also works because he's told me to do it and because I feel naughty.
Being told he enjoys me sucking his cock, that I am his cock whore and so on, turns me on because I am being used to please him, the name calling makes me feel naughty and wanton, which again feeds that mental state.
When Mr H behaves in a way that could be described as selfish (taking his own pleasure and using me to achieve that) my submission is fed and nurtured. The desire to follow the rules and please him is heightened.
Without that, the connection can fade and falter.
I'm so glad and lucky, that MrH is willing to do the things that put me into the headspace I enjoy.
Sweetgirl x