In his post today my Dominance up close and personal in 20 days – daysolicitous. 8 HisLordship discussed communication, and how he and Missy talk each Saturday morning. They make that effort and he notes how he has become more verbose in discussing his emotions and thoughts.
This got me thinking…..
When was the last time Mr H and I "talked" about our D/s?
You know, an in depth, two way discussion, and I'm struggling to remember a time when it wasn't a question I'd raised, that was simply answered. In the beginning we talked about what was ok to do and what was not (our yes, no and maybe lists).
Early on I asked for downtime when I wanted to tell Mr H something in particular. I would usually write it down and have him read my journal. When I did speak I would hide my head embarrassed at speaking in such intimate detail.
As Mr H will say we do communicate well, but I'd never had to be so explicit in describing my wants and desires. Our sex life had just rubbed along pretty well up until the introduction of D/s, I would say our sex was very nice and enjoyable. But nothing like what I've experienced since we began D/s.
But when I look back… I am the one who talks. Mr H listens. I'm often left floundering, wondering what he is thinking and feeling.
His post on the first 6 months of our D/s was as much of a revelation to me as it was to others. I didn't know most of what he shared.
HisLordship's reflections therefore have forced me to evaluate this.
And I've come to the conclusion that MrH doesn't communicate with me in the way I need sometimes and that leaves me feeling unsure.
I know MrH listens to me closely and attentively. He'll often say "noted" as if he's filing that away for future use or integration.
But he doesn't instigate communication. He doesn't share with me. He's never asked me how did you feel about that scene? He asks me if I'm ok, during and after. He's solicitous. He's caring.
And…. this sounds like a complaint ☹️ I suppose in some respects it is but I don't want it to be.
I could ask for some time to talk and raise these concerns, and he would listen. I strongly suspect his response would be… "If I have something to say I would."
What I've wondered though as I've written this and analysed my feelings is … Does his reluctance to speak and share his thoughts and feelings, fuel my insecurity?
Because I don't "know" what he feels and thinks, I project what I perceive to be probable into this space.
Where I see flaws in my body, I assume he sees the same and responds the same, because I have no contradictory communication.
Is is unreasonable for me to ask him to communicate in a way that is alien to him? I guess so. I shouldn't suddenly expect him to be the one who says, "I'd like to talk to you about where we're at, how I'm feeling, and how you're feeling."
Which means I suppose that all I can do is accept that my "idea" of what communication should be needs to be adjusted to fit the reality of how communication "is" for us.
Sweetgirl x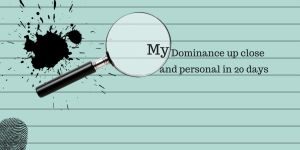 More posts about communication :